Morocco vs.
Climate Change
Our modern-day world is facing a whirlpool of challenges, from ecological and climate issues, to food and energy conundrums – and the list is packed. Very early on, Morocco adopted a serious policy to preserve its resources and optimise its energy mix so that all of its products could reach the level of excellence that they have attained today. At the agricultural level, this policy translates into actions to irrigate large crop areas, to advance organic farming, to upgrade production in such a way as to elevate end products to international standards, and to develop indigenous assets to ensure that the local populations have a decent income to live on. Moreover, certain agricultural areas have been upgraded with crops that are more resistant to climate change (olive trees, almond trees, carob trees, cacti, etc.).
Morocco has also embarked on a major effort to preserve the genetic resources of seeds, crops, and livestock. Between 2008 and 2019, the number of plant genetic resources conserved in gene banks has increased from 22,000 to 67,970.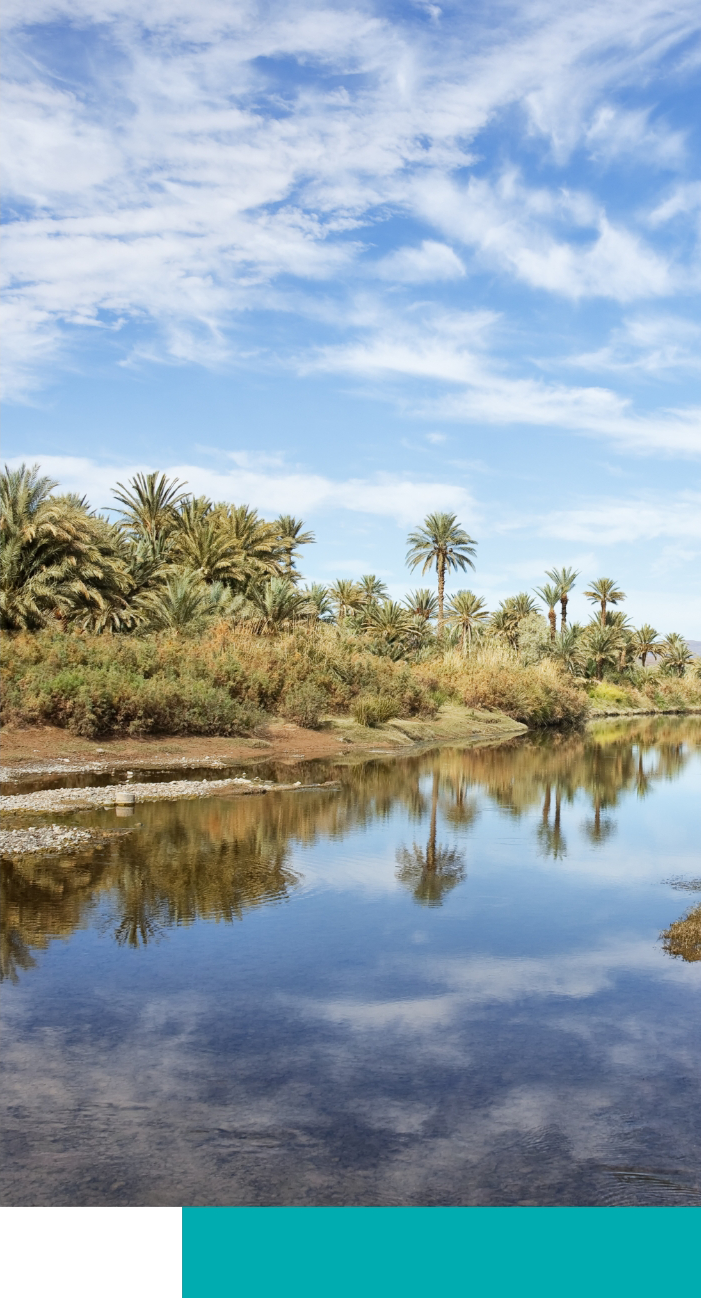 Agriculture has begun its 2.0 revolution with the introduction of new technologies.
These technologies allow for production optimisation while ensuring greater traceability and better control of the environmental impact. Morocco is the best performing country in the Mediterranean in terms of the rational use of agricultural inputs.
Research is energetically conducted in this area. Natural pesticides, such as hornets, are used as an alternative to chemical pesticides for greenhouse crops. Airlocks are deployed at the entrance to some greenhouses to protect production.
Moroccan agriculture can also boast a much lower carbon footprint than its competitors.
Out of climate consciousness, greenhouses are not heated and priority is given to renewable-energy use. Morocco Foodex is closely involved in all these measures and supports farmers in raising ecological awareness. Morocco Foodex itself has digitalised its technical control activities, which has enabled it to dematerialise 3.5 million pages of paper-based documents per year.
Morocco's resilience in the face of climate change originates in a wide-ranging agricultural policy aimed at enabling all actors in the sector to be better equipped to confront the current planetary challenges. The results of this policy are visible through several governmental actions.
The agricultural strategy "GENERATION GREEN 2020-2030"
This strategy is based on two foundations: (1) enhancing human development by helping a new generation of agricultural middle class to emerge, along with a new generation of young entrepreneurs and professional organisations in the agricultural sector; (2) strengthening value chains and developing agricultural industries. In addition, this strategy seeks to improve the distribution channels for agricultural products as well as the development of sustainable and resilient agriculture, namely through the implementation of the national drinking-water supply and irrigation programme 2020-2027.
The comprehensive and integrated National Nutrition Programme
Institutionalised in 2019, this programme is part of the implementation of the National Nutrition Strategy and is in line with international commitments, such as set out in the Declaration of the Second International Conference on Nutrition (2014), the Sustainable Development Goals (2030), and the Decade of Action for Nutrition (2025). The programme aims to improve the indicators pertaining to the population's nutritional status throughout the life cycle, to promote a healthy lifestyle so as to prevent diseases linked to "junk food", and to strengthen the skills of institutions and professionals in the area of nutrition.
The Childhood Obesity Strategy (2018-2025)
It focuses on the prevention and control of overweight and obesity in children, raising awareness about the importance of promoting good nutrition among children and adolescents.
RENEWABLE ENERGY

IN MOROCCO
Morocco is particularly blessed with sunshine: The Kingdom is located in an area with a high solar potential and is well endowed with direct sunshine (useful for CSP technology).
A clean, free, and inexhaustible source
The sun is an inexhaustible source of energy: every six hours, deserts around the planet receive sunlight equivalent to humankind's annual energy needs. It is a raw material available everywhere in the world, free of charge, and inexhaustible – and its transformation into energy contributes to the reduction of greenhouse gases.
installed renewable energy capacity in MW
the share of renewable energy in the nameplate capacity :
The energy mix of a country refers to the distribution of the different primary energy sources consumed by this country. Today, Morocco's energy mix is dominated by hydrocarbons; as such, the exploitation of solar resources will enable the country to reduce the share of fossil fuels in its energy mix. Note that Morocco has set for itself the target of securing 52% of its energy mix from renewable energies by 2030.
Organic farming in Morocco
Organic farming in the country has long been an established practice among small farmers who have, for centuries, conducted it in a "traditional" or "natural" way. Most of them practice organic farming without certification.
Certified organic farming in Morocco has evolved significantly since 1986,the area reached in 2020, 282,480 ha including 11,000 ha of species cultivated in organic agriculture, and 273,000 ha of spontaneous plants and 1,000 ha in conversion. Subsidies to finance the cost of organic certification are currently available and a regulatory framework has been introduced, making Morocco and Tunisia the only African countries to implement a regulation on organic agriculture.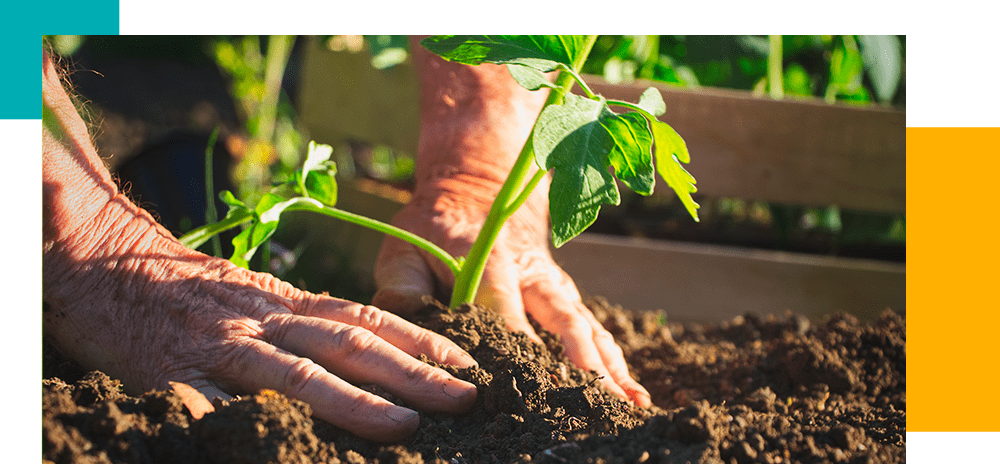 Morocco's new agricultural strategy (2020-2030), launched in 2020 under the name "GENERATION GREEN", has been designed to respond to this century's greatest challenges and should allow Moroccan agriculture to become much more efficient and sustainable through greater engagement in ecological organic agriculture. This fresh vision aims to help with the emergence of a new generation of agricultural middle class and the promotion of agricultural entrepreneurship via various forms of aid and incentive that should enable 180,000 young farmers to start up.
This means that the potential for organic farming is very high in the Kingdom.
The main national organic products in Morocco are argan trees (72%) and aromatic/medicinal herbs (22%), carob (16%), olives (13%), and market gardening (12%). The main products exported are citrus fruits; fresh vegetables, such as tomatoes, courgettes, potatoes, sweet and hot peppers, aubergines, green peas, onions, carrots, garlic, and cucumbers; fresh fruits, such as olives and melons; and wild harvested products, such as argan oil and spontaneous medicinal and aromatic plants. The main importing countries of Moroccan organic products are France, England, Germany, Hungary, Slovakia, Spain, Sweden, Switzerland, and the United States.
Organic regions in Morocco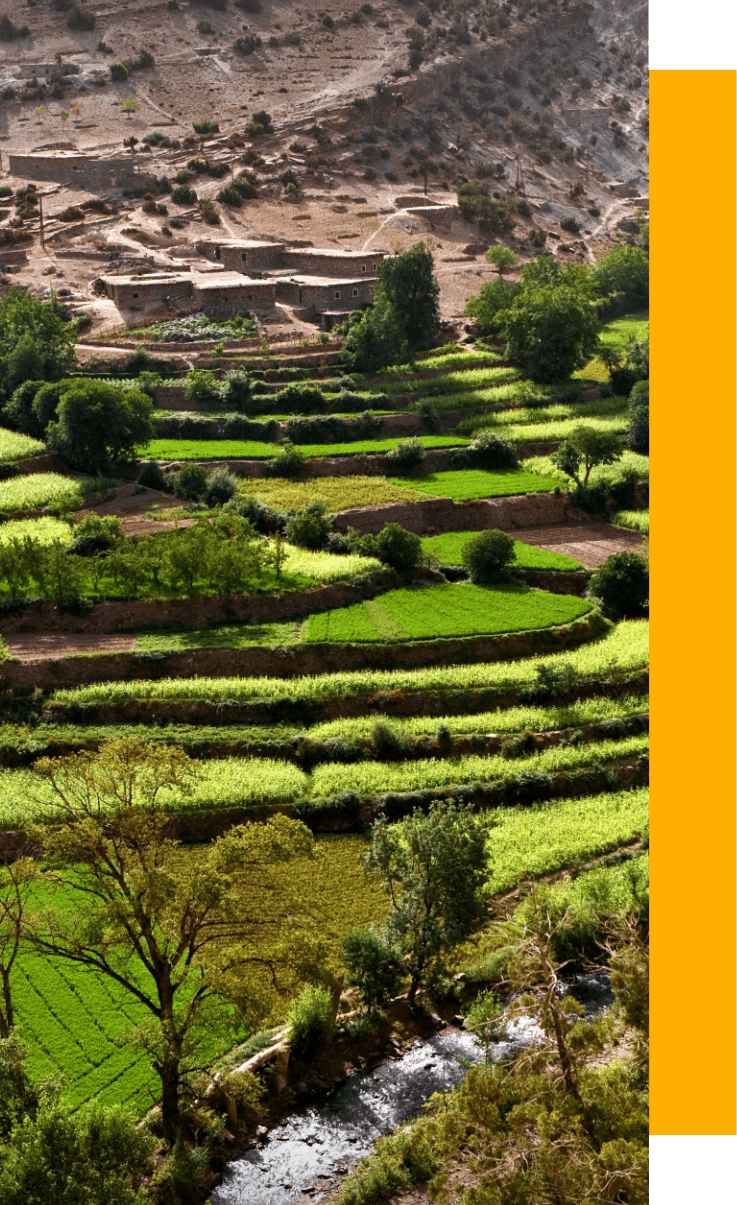 Eight regions in the country are involved in organic production, with cultivated plantations being located in Rabat, Azzemour, Fez, Taza, Beni Mellal, Marrakech, Agadir, and Taroudant. Medicinal and aromatic plants are found in almost every one of these areas, but with some specificities per region, as is the case of verbena in Marrakech, saffron in Taroudant (Taliouine), and capers in Fez. The Souss-Massa valley stands out as the main market gardening region, due to its subtropical climate favourable to off-season production. Certain coastal regions (Azemmour and Rabat) are also qualified for this type of production.
To market their products as organically produced, farmers and collection/processing companies must have their activities inspected and certified each year by an EU- accredited control and certification operator (CCO). To be able to operate in Morocco, CCOs must be approved by the Ministry of Agriculture and Fisheries as per the provisions of Decision No. 270-15 on the accreditation of organic production CCOs.